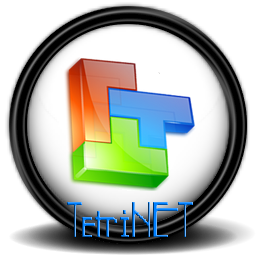 1. Game version :
Version 1.13 will be played.
Download : http://tetrinet.info/download/tnet113.zip
2. Information :
One match will be played.
3. Qualification Process :

Elimination : 1 vs 1 in single elimination brackets (1 round).
Final : 1 vs 1 in single elimination brackets (3 rounds).
4. Screenshots :
The server host is required to take a screenshot after each game.
5. Gameplay
Matches will be played on the pc's of the participants of the competition.
Disable Windows Firewall for TetriNET (tetrinet.exe). Add an exception or disable the entire firewall for network play.
1 of the participants will host the server: click on "Server Settings", fill in your nickname, check the specified compo settings (see below) and click on "Start Server".
The other player has to fill in the IP-adress of the hoster and his own nickname by clicking on "Client Settings" .
The hoster can start the game in "Partyline" by clicking on "Start New Game" and then both click on "Show Fields". You can chat with the other player in the "Partyline" before and after the game.
Use your special blocks by clicking on the right number on the top of your keyboard. The special block in the red box will be used.
Special blocks: http://nl.wikipedia.org/wiki/TetriNET
Manual : http://gtetrinet.sourceforge.net/tetrinet.txt
Click on Server Settings to set up the following :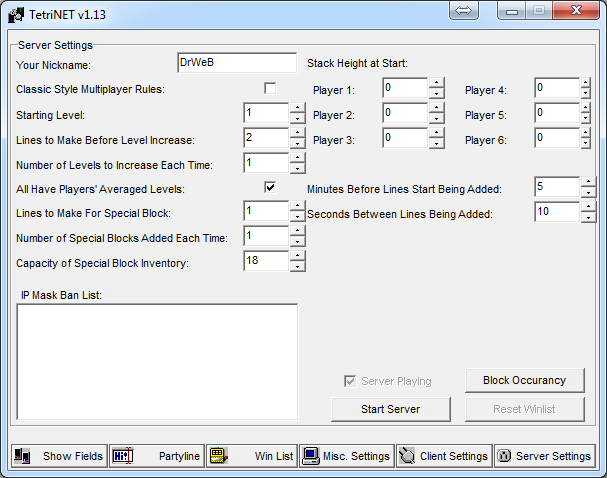 1 special per row
18 specials in inventory
Sudden death after 5 minutes
In sudden death every 10 seconds 1 row is added
Click on Block Occurancy to set up the following :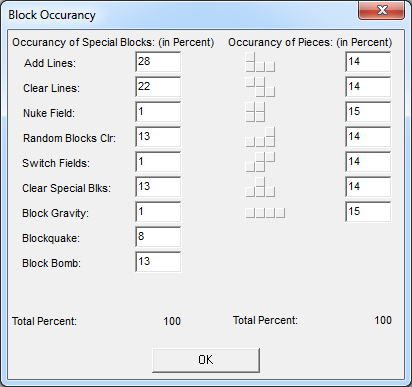 Add Lines = 28%
Clear Lines = 22%
Nuke Fields = 1%
Random Blocks Clear = 13%
Switch Fields = 1%
Clear Special Blocks = 13%
Block Gravity = 1%
Blockquake = 8%
Block Bomb = 13%
Block left L=14%
Block left Z=14%
Block square=15%
Block right L =14%
Block right Z =14%
Block T =14%
Block line=15%
If a player drops out of the game for any reason, he will be disqualified.
6. Compo-Admin
The compo-​admin is Sentinel.
7. Prices
Seasonic M12II-620 Powersupply